UEMS EUROPEAN BOARD OF NEUROLOGY THANKS ITS PARTNERS AND CONTRIBUTORS
TO THE EUROPEAN BOARD EXAMINATION IN NEUROLOGY


The 12th EUROPEAN BOARD OF NEUROLOGY EXAMINATION 2020 will take place on Friday, 22 May 2020 in Paris,
perhaps we will also extend it to 21 May.
The content and procedure may differ from 2019!
The website will be continuously updated from 19 November 2019.
Application for Examination 2019 is closed.
Edited by UEMS European Board of Neurologists – Examination Committee
Address:
UEMS - EBN
c/o Vienna Medical Academy
Alser Straße 4, 1090 Vienna, Austria
t: +43 1 405 13 83-32
This email address is being protected from spambots. You need JavaScript enabled to view it.
GENERAL
The European Board Examination in Neurology is a joint development of the UEMS Section of Neurology and the European Academy of Neurology. There is an observer of the World Federation of Neurology at the day of examination.
The exam was held in 2009 for the very first time and since then 374 candidates passed the exam. Successful candidates from all over the world are now conferred the title "Fellow of the European Board of Neurology (FEBN)".This title is not identical to "fellow of the EAN".
For an additional view on the exam please see the powerpoint presentation and the report of the 2018 Lisbon-Exam on the main page of this website (will be uploaded as soon as possible).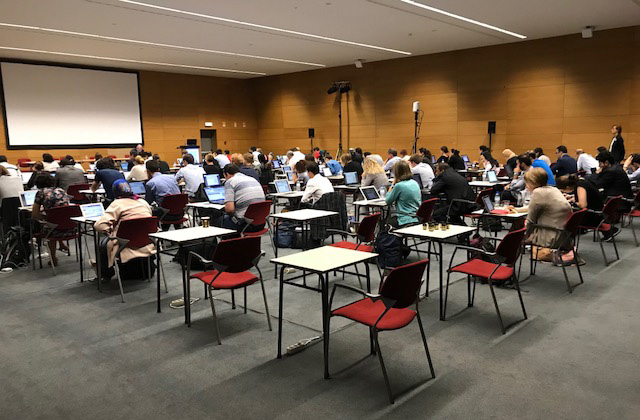 10th European Board Examination in Neurology – June 15, 2018 – Lisbon/Portugal

TIME & VENUE
The 11th European Board Examination in Neurology will be organised one day prior to the 5th congress of the European Academy of Neurology (EAN) on Friday, June 28, 2019 at the site of the EAN congress:
Norges Varemesse
Messeveien 8
2004 Lillestrøm
Norway
The exams are taken in secluded rooms without public access.
WHY TAKING A EUROPEAN NEUROLOGY EXAMINATION?
Passing this examination is an additional sign of excellence but it does not entail any legal consequence nor does it affect the right to practice within the EU or elsewhere. It is however a proof of excellence and gives the individual candidate a distinguishing mark which may be an advantage in an application procedure within Europe.
The European Board Examination in Neurology is an important step towards further harmonisation and raising standards in European neurology. Cooperation with scientific neurological societies is an important scientific input and a guarantee for the continuous updating of the current knowledge of a European neurologist.
A few words of praise from successful candidates:
"Many thanks. Being a FEBN I noticed that the world turns in different ways, as the title and the knowledge have opened many new doors and opportunities in the field of Neurology for me. Furthermore the preparation and revision for the exam, which I completed successfully after 3,5 years of training in field of neurology, expanded further my knowledge in the area."
"I just wanted to thank you for your unconditional support to take the EBN exam this year in Denmark. I was very proud of being part of the group who took this holistic examination. The organization and quality of the exam were great and will definitively help in the development of better academic neurologists."
"Thanks for all the communications and support given for taking the EBN examination. It is a good academic experience for me. Thanking you sincerely"
"I would like to thank you a lot for all the help you gave me, your wonderful kindness and your generous availability; for making this experience one of the best of my life and a dream come true."
"It has been a pleasure, a privilege and an honour meeting you in person, and witnessing the magnitude of your human qualities.
Thanks again for the great work that you have done, and I will always be grateful for this gift."
APPLICATION
Participation in the Congress of the European Academy of Neurology (EAN) is not required for participation in the EBN examination.
Deadlines
Early bird application before February 1st
Final application deadline: May 1st
Deadline for submitting workpieces (for the oral examination): May 8th
Conditions
By applying for the European Board Examination one agrees to take the examination in the form and structure described and acknowledges that a cancellation is only possible in accordance with the cancellation conditions.
An application must be submitted by May 1st 2019 at the latest by completing the application form (see link to secure server at the bottom).
The correct filling in of personal data (in particular first and last name and only a title if requested) in the application form is crucial, as this data is used for the certificates that are only changed subsequently against payment of an additional fee.
The application must be confirmed by payment, the registration date is the date of transfer to our bank account.
In the event of failure there is no restriction on participation in subsequent examinations, provided that a (reduced!) examination fee is paid. Registration for the examination implies that the candidate accepts that the result of the examination is final. A legal debate on the final decision is not possible.
Invitation letter
If you need a visa invitation and have not yet received one, please contact us. Please be aware of longer waiting times for visas.
Eligibility criteria
The European Board of Neurology will not require any certificates but it is assumed that the candidates have completed their basic training in general medicine and a national postgraduate training program with at least 3 years of training in clinical neurology to be able to take the exam.
Only identification documents are required on the day of the examination.
PAYMENT
| | | |
| --- | --- | --- |
| Admission Fees (in EUR) | | normal |
| Group 1 3 associated members of the EAN | | 650 |
| Group 2 3 associated members of the EAN | | 400 |
| Non European low and lower-middle-income countries 4 | | 400 |
| Other non-European countries | | 800 |
1 Admission fees depend on the country of work (not on the country of birth or passport)
2 Payment and subscription via the website should be completed before the early bird date (see deadlines).
3 Group 1: EAN - Associate Member societies from Austria, Belgium, Croatia, Cyprus, Czech Republic, Denmark, Estonia, Finland, France, Germany, Greece, Hungary, Iceland, Ireland, Israel, Italy, Latvia, Lithuania, Luxembourg, Norway, Poland, Portugal, Russian Federation, Slovakia, Slovenia, Spain, Sweden, Switzerland, The Netherlands, Turkey, United Kingdom
3 Group 2: EAN - Associate Member societies from Albania, Algeria, Armenia, Azerbaijan, Belarus, Bosnia & Herzegovina, Bulgaria, Egypt, FYRO Macedonia, Georgia, Jordan, Kazakhstan, Kyrgyzstan, Lebanon, Libya, Moldova, Montenegro, Morocco, Palestine, Romania, Serbia, Syria, Tunisia, Ukraine, Uzbekistan and additionally Irak;
4 To get sure about the classification of low and lower-middle-income economies please find the following link:
http://data.worldbank.org/about/country-and-lending-groups#Low_income
EAN RRFS members (from EAN Member Countries) will receive a reduction of € 100. If RRFS membership is announced after payment has been made, the difference will not be refunded. Please send a confirmation of your membership to This email address is being protected from spambots. You need JavaScript enabled to view it.
In the event of irregularities requiring further administrative steps, an additional handling fee of € 100 may be charged after a notice.
In the event of cancellations before June 1st applications for 2020, 2021 and 2022 will be possible for a considerably reduced charge.
CONTENTS
The examination is not an ultimate test for retrieving knowledge from memory, but a competence based exam based on the roles adopted by UEMS: Medical Expert, Communicator, Scholar, Health Advocate and Professional.
The examination consists of the following parts:
About 100 MCQs on EAN-Guidelines and general Neurological topics. Part (60%) of the written examination may be taken with the help of paper reference sources ('open book exam')
A short essay on a neurology-related topic of public health or ethics which is discussed orally with the examiners. Please bring a PPT presentation with you.
Critical appraisal of a neurological topic to be discussed orally with the examiners. No presentation is needed at the oral examination.
A presentation of a clinical case for oral discussion
The results of these 4 examinations are summarized to an overall grade.
Written part of the examination
The aim of this part of the examination is to test knowledge (closed book exam) and the handling of knowledge (open book exam).
The answers to the questions are entered manually.
The multiple choice test consists of approx. 100 multiple choice questions (MCQs) including clinical case descriptions and can also contain images (radiology, pathology etc.).
About 40 questions have to be answered within the first 60 minutes (90 seconds per question) without using references, the rest can be done with the help of paper references of your choice within the following 180 minutes (3 minutes per question). We recommend to bring along a manual and, if desired, a few hardcopies for the examination. Too much literature available will confuse you!
The written part of the examination counts for 70% of the final mark. Multiple Choice Questions are selected from the main topics and diseases listed in our Core Curriculum.

European Training Requirements Neurology Vers. 2016
For your preparation we recommend:
A. H. Ropper, M. A. Samuels: Adams and Victor´s Principles of Neurology, MacGraw Hill, or a similar textbook. These books may be taken to the exam to be used as a reference source in the open book parts.
EFNS & EAN guideline papers from 2012-2016
Access to e-Brain:
If you do not have a password and username, you can get access
via www.ebrainjnc.com/purchase_full.html by either
a) Personal subscription (£250/yr high income; £75 middle income; Free Hinari or low income countries)
b) Joining a subscribing organization such as EAN.
c) Persuading your institution to purchase a license (as libraries do for journals etc)
These sources will be used by the question authors as well.
EFNS & EAN guideline papers from 2012-2016

EFNS guideline ALS


EFNS guideline Ataxias


EFNS guideline diagnosis Parkinson's disease


EFNS guideline therapy Parkinson's disease


EFNS guideline mild traumatic brain injury


EFNS guideline ocular myasthenia


EFNS guideline Restless legs syndrome


EFNS guideline PCR diagnosis of infectious diseases CNS


EFNS review on the role of muscle biopsy in the investigation of myalgia


EFNS-ENS/EAN Guideline on concomitant use of cholinesterase inhibitors and memantine in moderate to severe Alzheimer's disease


EAN consensus on mechanical thrombectomy in acute ischemic stroke


EAN consensus on palliative care


EAN guidelines on central neurostimulation therapy in chronic pain conditions


EAN guideline cerebral venous thrombosis


EAN guideline diseases associated with dementia


EAN guideline diagnosis and management of tick-borne encephalitis


EAN guideline pharmacological treatment of MS

How to participate in the written part of the examination?

Examples of MCQ
Oral part of the examination
The aim of this part of the examination is to test presentation skills, communication, ability to discuss ethics and public health issues and current scientific issues. Language difficulties in non-English speaking countries will be taken into account.
Please send your submissions timely (i.e. before May 8th) or contact us in case of difficulties. Failure may be considered as a cancellation of the examination. In the case of an incomplete set of documents sent after a complete subscription, we will send you a reminder before the examination.
Essay
You are asked to write an essay on an ethical or a public health topic in the field of neurology. This essay should be an original work and is checked for plagiarism by a scanner.

How to prepare the essay to be presented
It is allowed to take other subjects of own preference. Write a short essay (max. 800 words) following the instructions and send this to This email address is being protected from spambots. You need JavaScript enabled to view it. before May 8th.
It is the candidate's responsibility to send in this document timely, a failure may be considered as a cancellation of the examination. In case of an incomplete set of sent documents after a complete subscription, we will send you a reminder amply before the examination.
Examples for essays and powerpoints:

Examples of neurology related Ethics topics


Examples of neurology related Public Health topics
Send your submission before May 8thto This email address is being protected from spambots. You need JavaScript enabled to view it.
We recommend that you prepare an oral presentation about your essay. This powerpoint should not be submitted before the exam. During the exam, there will be 5 minutes to present your essay to the examiners. Please use your own laptop to present some of the slides you have created. This slides should not be sent in before the examination.
The examiners ask further questions for another 5 minutes and then complete the form as shown in the example.
This part accounts for 10% of the final mark.
Critical appraisal on a topic (CAT)
You are asked to critically evaluate a topic in the field of clinical neurology. This appraisal should be an original piece and is also checked for plagiarism by a scanner.

How to perform a CAT
The CAT will not be presented, do not prepare a powerpoint presentation but you will receive additional questions to verify your authorship of the document. This takes about 10 minutes, at the end the examiners fill out an examination form as shown in the example.
This part accounts for 10% of the final mark.
Clinical case
You are also asked to present a clinical case which counts for 10% of the final mark as well.
Please send your submissions (essay, CAT) before May 8th to This email address is being protected from spambots. You need JavaScript enabled to view it.
It is not necessary to submit the clinical case. It is intended that it will only be presented orally.

Case presentation example

Structured evaluation of a case presentation
TEMPORARY TIMETABLE
| | | |
| --- | --- | --- |
| 07:00 - 08:00 | | Registration |
| 08:00 – 08:15 | | Get familiar with the question site |
| 08:15 | | Instructions for candidates |
| 08:30 – 09:45 | | during 1 hrs: closed book exam / 40 mcqs for all |
| 10:00 – 11:30 | | during 1,5 hrs: open book exam / 30 mcqs / 1st group |
| 11:30 | | Lunch will be provided |
| 12:00 – 13:30 | | during 1,5 hrs: open book 1 exam / 30 mcqs / 2nd group |
| 14:00 – 15:30 | | during 1,5 hrs: open book 2 exam / 30 mcqs / 1st group |
| 16:00 – 17:30 | | during 1,5 hrs: open book 2 exam / 30 mcqs / 2nd group |
| - | | |
| 10:00 – 19:00 | | Oral examination |
| 20:00 | | Announcement of results |
Please note that this schedule has not yet been finalized and can be adjusted with regard to the examination intervals and the end of the exam.
EVALUATION OF RESULTS
Written tests
After receiving the results of the candidates, the data areanalyzed according to p-values and RIT-values. Questions with insufficient statistics are eliminated.
Afterwards the Cohen method is used to calculate a passing limit as a control measurement. Final notes will be calculated taking into account a real knowledge limit of 60%.
Oral tests
For each of the three parts of the oral examination, two examiners prepare their own score. All three notes between 0 and 10 are averaged to a mean score.
BRING ALONG TO THE EXAM
Your own laptop with a plug suitable for European sockets (type C, see www.worldstandards.eu/electricity/plugs-and-sockets) and a working adapter to load the battery
Reference sources for the open book part (see below)
Identity documents
Your powerpoint presentations for the oral exam
APPLICATION FOR EXAMINATION 2019 IS CLOSED.