Welcome to the European Board of Neurology
This website shall provide information on UEMS - Section of Neurology and special topics for everybody interested in neurological care. Please feel free to browse our site and give us your comments and feedback or send us notes or suggestions about all aspects of neurology.
European Board Examination in Neurology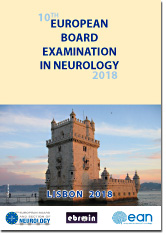 OPEN WORLWIDE
The next examination will be organised one day prior to the 4rd congress of the European Academy of Neurology (EAN) on Friday, June 15, 2018 in Lisbon, Portugal.